Phonics
At Alma Park we use a systematic teaching of phonics to support children in learning to read and write. As children progress in their phonic knowledge children will move on from learning letters and the sounds that they make, to using and applying this knowledge to read and write words, then into reading and writing sentences. We give the children the opportunity to use and apply their phonic learning through games and activities so that they then use this in their independent reading and writing work.
At Alma Park we follow the 'Letters and Sounds' document.
Please click on the link below to read 'Letters and Sounds'…..
What is phonics?
Phonics is a way of teaching children to read quickly and skilfully. They are taught how to:
recognise the sounds that each individual letter makes;

identify the sounds that different combinations of letters make - such as 'sh' or 'oo'; and

blend these sounds together from left to right to make a word.
Children can then use this knowledge to 'de-code' new words that they hear or see. This is the first important step in learning to read.
Why phonics?
Research shows that when phonics is taught in a structured way – starting with the easiest sounds and progressing through to the most complex – it is the most effective way of teaching young children to read. It is particularly helpful for children aged 5 to 7.
Almost all children who receive good teaching of phonics will learn the skills they need to tackle new words. They can then go on to read any kind of text fluently and confidently, and to read for enjoyment.
Children who have been taught phonics also tend to read more accurately than those taught using other methods, such as 'look and say'. This includes children who find learning to read difficult, for example those who have dyslexia.
If you would like to find out more about phonics, visit the phonics section of the Department for Education website. We have also attached an information leaflet that may answer any of your questions. Alternatively, come and have a chat to the class teacher or attend one of our phonics workshops.
What is the phonics screening check?
The National phonics screening check is a statutory assessment that was introduced in 2012 to all Year 1 pupils and is a quick and easy check of your childs phonics knowledge.
Who is it for?
All year 1 pupils will take the phonics screening check in 2016 during the week beginning 15th June. Those children that did not pass the screening test in year 1 and are now in year 2 will also take the screening test in this week.
What is in the phonics screening check?
It comprises of a list of 40 words and nonsense words. It will assess phonics skills and knowledge learnt through reception and year 1. Your child will read one‐one with a teacher. It will be your child's current teacher or reception teacher so it is a familiar face. Your child will read up to 4 words per page and they will probably do the check in 10‐15 minutes. They will be asked to 'sound out' a word and blend the sounds together. The check is very similar to tasks the children already complete during phonics lessons.
Is it stressful to test such young children?
The assessment will be age appropriate and the adults involved will all be familiar. The children at Alma Park are familiar with the set up as we are constantly reviewing children's progress in the same way. It should be an enjoyable activity for children which takes no more than 15 minutes. There will be a few practise words at the beginning to make sure your child understands the activity.
What are Nonsense or Pseudo words and why are they included?
These are words that are phonetically decodable but not actual words with an associated meaning e.g. brip, snorb. These words are included in the check specifically to assess whether you child can decode a word using phonic skills and not their memory. The pseudo words will be shown to your child with a picture of an alien. The children will be asked what the aliens name is by reading the word. This will make the check a bit more fun and provides the children with a context for the nonsense word. Crucially it does not provide any clues, so your child has to be able to decode it. Children generally find nonsense amusing so they will probably enjoy reading these words.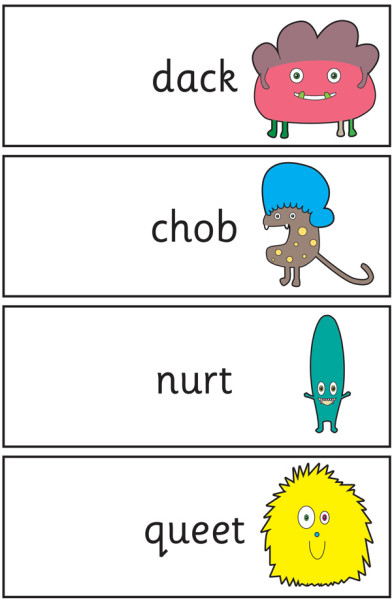 How will the results from the screening be used?
You will be informed of your child's progress in phonics and how he or she has done in the screening check, towards the end of the summer term. All of the children are individuals and develop at different stages. The screening check ensures that teachers understand which children need support with decoding.
What happens if a child struggles with the screening check?
The screening check will identify children who have phonic decoding skills below the level expected for the end of year 1 and who therefore need help. Schools are expected to provide extra help and children will then be able to re‐take the assessment in year 2.
How can I help my child?
There are a number of things that parents can do to support early reading development:
· Let your child see you enjoy reading yourself. They are influenced by you and what you do!
· Immerse your child in a love of reading
· Make time for your child to read their school book to you
· With all books, encourage your child to 'sound out' unfamiliar words and then blend from left to right rather than looking at pictures to guess.
Useful Links for Parents
http://www.oxfordowl.co.uk
Oxford Owl is a free website built to support you with your child's learning. You'll find age-specific reading and maths tips and activities, eBooks, and lots of fun ideas to really bring your child's learning to life. You will also find support and advice on a range of questions you may have – including helping your child with their phonics, motivating boys to read and ensuring your child is doing their best in maths.

www.bookstart.co.uk
This website provides information about the national Bookstart scheme and the Bookstart packs that your child will receive as a baby, a toddler and at age three to four. It also gives information about sharing books with your child. You can find out about Bookstart events in your area, which you can attend with your child.

http://jollylearning.co.uk/parent-teacher-guide
The Parent/Teacher Guide provides background information on the Jolly Phonics programme and also suggests products that would be suitable for use in the home.

http://www.phonicsplay.co.uk/ParentsMenu.htm
Here you will find lots of information for parents about phonics including: what exactly phonics is, how it is taught in UK schools and suggestions for helping pre-schoolers prepare for learning phonics. You will also find lots of games and ideas to explore with children at home.
Useful Videos for Parents
Click on the videos below to hear the songs we use in school and the correct articulation of sounds.
Jolly Phonic Songs
All the songs which introduce the phonemes (sounds). They are all there, in the order that we introduce them to the children.

Now you can sing along at home!

Articulation of Phonemes
A simple video which shows the pronunciation for each of the phonemes (sounds) in the English language. These 'pure' sounds help the children to blend and segment - to read and write.